Voice & Data Cabling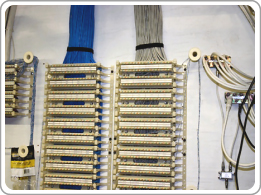 Lichtman Communications, Inc. is skilled at installing all cable manufacturers. Lichtman Communications, Inc. warrants all cable installed by our technicians for the lifetime occupancy of its customers. All products and materials installed are of the highest quality and the most cost-effective for our customers.
Our technicians, professionally trained directly by the manufactures, have a minimum of five years experience in the telecommunications industry.
It is our policy at Lichtman Communications, Inc. to render prompt and efficient service to all our customers. All technicians have 100% inventory available in both the warehouse and on their service vehicle.
Our ability to respond quickly to our customers needs has earned us a reputation for on-time, professional installation with great attention to quality and detail.
Lichtman Communications, Inc. follows all EIA/TIA and BICSI installation standards and is a member of BICSI and an AT&T/Lucent/Avaya approved contractor.
We provide...
Fiber Optics
Data
Voice
IBM Type 1-2
Coaxial
Upon completion of the station outlets, all cable testing procedures will begin. All cable pairs will be tested end to end. All voice cable will be tested for continuity, potential grounds, shorts, and reversals. All category 5, 5E and 6 data cables will also be tested.

All workstations, patch panel ports and terminations in the closet will be labeled with machine generated labels. No handwritten labels will be used.

Records shall be provided for all category 3, 5, 5E and 6 cables. Information for each cable shall include workstation reference number, voice termination or patch panel/rack location and office number.

Lichtman Communications, Inc. shall warrant the installation to be free from defects for the lifetime occupancy of the client. All hardware installed includes a 1-5 year manufacturer's warranty. At any time during the warranty period, Lichtman Communications, Inc. Communications will replace at no charge any components that are found to be defective from normal use.